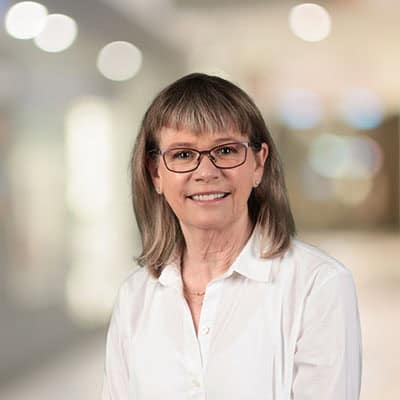 Shelly Saczynski
Prospect Researcher
Shelly has more than 20 years' experience in the nonprofit sector, including economic and community development, housing, and healthcare. She has a recognized ability to connect people, organizations, and ideas. At The Angeletti Group, Shelly primarily assists clients with prospect research and strategy.
Shelly's passion for this work is fueled by a conviction that the nonprofit sector plays an increasingly critical role in sustaining our society, a lifelong love of learning, and her interests in history and genealogy. The quality of her work reflects her persistence, creativity, and commitment to accuracy.
As a former corporate philanthropy executive, Shelly brings diverse perspective to The Angeletti Group. She is an experienced grantmaker, having been responsible for annual corporate grant budgets, several corporate foundations, and capital campaign giving. Shelly acquired wide-ranging expertise in nonprofit organization by serving in leadership roles on many diverse nonprofit boards and on numerous strategic planning, executive search, governance, and major fundraising campaign committees.
She served on the board of The Community Foundation for Greater New Haven for seven years, where she chaired the Development Committee and The Fund for Women and Girls. Shelly also served as chair of the board of the Connecticut Economic Resource Center, of the Connecticut Regional Institute for the 21st Century, and of Connecticut Main Street Center. She was on the board of the Connecticut Coalition to End Homelessness and the Connecticut Council for Philanthropy, an association of grantmakers committed to promoting and supporting effective philanthropy for the public good. Her regional work has included the Federal Reserve Bank of Boston's Working Cities Challenge Steering Committee.
Today, Shelly volunteers as the chair of the boards of the New Haven Economic Development Corporation and REX South Central Regional Economic Development Corporation and on the board of Connecticut Main Street Center.
She is a member of the New England Development Research Association (NEDRA) and the Association of Professional Researchers for Advancement (APRA).
Shelly graduated magna cum laude from Connecticut College and lives in the New Haven area with her husband Richard. An avid non-fiction reader, Shelly enjoys kayaking, gardening, hiking and the Long Island Sound in the warmer months and skiing in Ludlow, VT, in the winter.