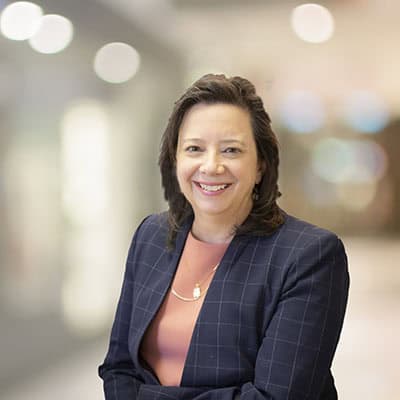 Theresa Shubeck
Vice President, Client Partnerships
Theresa Shubeck has over four decades of professional philanthropic experience helping nonprofit organizations advance their missions, develop, and execute strategies, raise critical funds, and train leaders. She has counseled nearly 250 institutions of all types, including social service, education, healthcare, faith-based, and the arts.
Theresa's background in consulting and institutional positions includes capital campaigns, pre-campaign studies, advancement program assessments, board development, planned giving and executive search. During a 12-year tenure at Drew University, Theresa was involved in every area of student recruitment, alumni relations, and development. Also on the institutional side, she held leadership roles for a Manhattan independent school and a social service agency in New Jersey. Theresa received the 2008 Robert J. Smythe Outstanding Professional Fundraiser Award from the Association of Fundraising Professionals-New Jersey Chapter (AFP-NJ), nominated for conducting a successful debt-reduction campaign.
An experienced presenter, Theresa has addressed regional and national audiences of fundraising professionals on a variety of topics including, "Integrating your Planned and Major Gift Programs for Maximum Results," "Building and Sustaining Board Value," and "Strategic Use of Time in the One-Person Development Office," which received recognition in the national publication, "The NonProfit Times."
Theresa received a B.A. from Mount Holyoke College in English and Psychology, a Master of Letters from Drew University, and has completed additional graduate study in English literature. Her publications include her Master's thesis Sweet Dreams: Robert Frost's Search for Self; "For Donors Who Have Everything," The Major Gift Difference for CASE Currents; and a variety of articles for The Monitor, published by the Diocese of Trenton.
Theresa is a former Board member of AFP-NJ and Morris Habitat for Humanity. She is currently President of both the Advisory Board of Mount Saint Mary House of Prayer and Nai-Ni Chen Dance Company, which performs internationally. Theresa has presented at seminars for prospective adoptive parents through FTIA (Families Thru International Adoption), volunteered with FCC (Families with Children from China), and has been a competitive runner and marathoner. Her daughter Claire Xian is a pre-med senior at Columbia University studying neuroscience and behavior, and public health. In addition to being a clinical research coordinator at Mount Sinai, Claire is a certified DOVE Advocate (Domestic and Other Violence Education), a dancer with Columbia University's Generations urban dance team, and is active with Columbia Catholic Ministry.