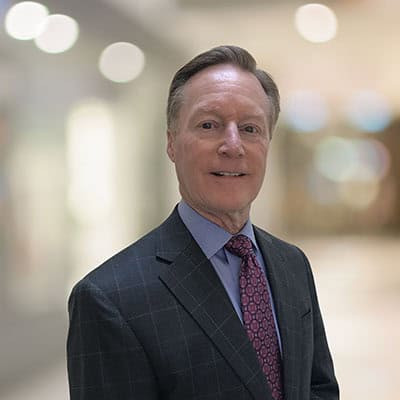 Jim Quinn
Vice President, Client Partnerships
Jim has spent over 40 years in the field of Fund Development. He served as chief development officer for Morristown Medical Center (MMC), part of Atlantic Health System, for 31 years. He formed the Foundation for MMC in 1995.
During his tenure at MMC, a 735-bed tertiary teaching hospital ranked the number 1 hospital in NJ by US News and World Report, Jim and his staff raised over $250 million. He organized and executed 7 capital campaigns all exceeding their dollar goals. The largest initiative was a $100 million comprehensive campaign to support capital, program, and endowment funding priorities, which raised $106.7 million. At MMC, Jim increased the staff from 4 to 28 and introduced several programs including major and special gifts, service line major gifts, planned giving, VIP patient program, gift clubs, telemarketing, special events including an annual gala and golf tournament, engagement events to cultivate major gift donors and prospects, and a comprehensive communications program including a quarterly magazine. Jim established the Foundation's Board of Trustees and its bylaws, served as administrator to the Board Development Committee, and assisted in the selection, enlistment, and training of board members. The Association for Healthcare Philanthropy (AHP) recognized the Foundation as a "High Performer" in 2018.
Prior to joining MMC, Jim served for 12 years as a Program Director for the fundraising consulting firm Brakeley John Price Jones (now Brakeley Briscoe). In addition to MMC, Jim's other clients included the Brigham and Women's Hospital, the New York City Boy Scouts, and Drew University. In 1987, Jim was the youngest member of the firm to be elected to the board of directors.
Jim got his start in the field at Montclair State University where he was selected as the first graduate intern in the college's Alumni Office during which time he created the first student phonathon.
Jim was the 2020 recipient of the Harold J. "Si" Seymour International Award from AHP, the highest honor bestowed by AHP, given to the professional whose career "reflects excellence and outstanding leadership in healthcare philanthropy." In 2001, Jim received the Robert Smythe Award as outstanding Professional Fundraiser by the NJ Chapter of the National Society of Fundraising Executives.
Jim serves on the board of the Mayo Performing Arts Center in Morristown, NJ, where he serves on the Executive Committee, chairs the Long-range Planning Committee, and is a member of the Governance and Nominating Committee. Jim is a past member of the National Board of Directors of AHP and the AHP Foundation, and a past board member of the NJ Chapter of the NSFRE (now Association of Fundraising Professionals). He has been a frequent presenter at AHP International and Regional Conferences and written several professional articles.
Jim and his wife, Helen, live in Morristown, NJ. They have two sons.