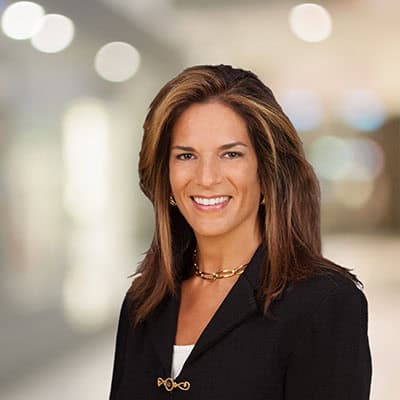 Christine M. Meola
Vice President, Client Partnerships
A Non Profit and development executive with over 30 years of experience in healthcare and higher education, Christine most recently served as Vice President of Development/Foundation for the Yale New Haven Health System. In this capacity, Christine secured the largest gift in decades to name the Emergency Department at Lawrence + Memorial Hospital and increased fundraising revenue by 61%. Before her tenure at Yale New Haven Health, Christine was an independent fundraising consultant for Colleges and Universities, served as Vice President for Development and Alumni Relations at Pace University, and held multiple leadership-level roles in development for New York Presbyterian Hospital/Weill Cornell Medical College, Fordham University and Manhattan College. She also served as Executive Director of the Columbus Citizens Foundation in New York City.
As director of development at NYP/Weill Cornell, Christine solicited and closed multiple 6 and 7- figure gifts as part of the $1 billion/$750 million concurrent campaigns. At Pace, she closed out the $150 million Campaign on time and over goal, and annual giving participation rates increased by 20%.
Christine has experience in all aspects of fundraising, having started her career in the annual fund which she feels is truly the foundation and platform for all giving. She has extensive experience organizing and executing events, large and small, and working with and managing volunteers. She is experienced in all aspects of Corporate and Foundation Relations, Principal, Leadership and Major Gift Fundraising, Board development and management, Planned Giving, Campaigns, and establishing and implementing grateful patient programs.
In her consulting work, she has the unique ability to quickly, clearly, and concisely assess an organization, make recommendations for best practice, and execute on those recommendations to take an organization to the next level of fundraising.
Christine received a B.A. in Psychology and an M.A. in Sociology from Fordham University.